Jason Atherton's got a wicked new place in Sydney, there's a new colonial live music joint from the Nightjar crew and if you've ever wanted the hotel from The Shining to actually exist, you're in luck. These are the hottest new bars that have opened up around the globe in the past few weeks – passports at the ready…
And if you're hitting London send BarChick Concierge a message (it's free yo!) and we'll send awesome bar suggestions to you, as well as get you booked in. Pow!
AUSTRALIA
Throw any expectations of what a hotel bar is out the window with this new spot. It's glam and comfy with chesterfields and a drinks trolly, but really it's an homage to the late John Hemmes and his world where fashion and hospitality met. The shabby chic walls are filled with plenty of quirky bits to look at and there's a mega whisk(e)y list just begging to be worked through.
1 Angel Place, Sydney, NSW, 2000, Australia
KENSINGTON STREET SOCIAL – SYDNEY
This much-anticipated launch from London's busiest chef, Jason Atherton, isn't just a replica of any other Social Group number. With a solid local team, it feels something like a reclaimed warehouse loaded with old school hotel charm. A solid food menu runs throughout the day, with a mix of decadent favorites (bone marrow any one?), easy nibblers and killer drinks by another UK transplant Matt Fairhurst.
2 Kensington Street, Chippendale, Sydney, NSW 2008, Australia
JANGLING JACKS – SYDNEY
Lots of wood, mismatched textures, and a whole load of booze and blues – this Kings Cross bar is going to be your new favorite watering hole. From ex-Mojo owner Jon Ruttan, expect awesome drinks and some polished boho vibes, ideal for whiling away an evening with friends.
175 Victoria St, Potts Point NSW 2011, Australia
Get ready for a little slice of Beverly Hills in Sydney. With peach coloured walls, high ceilings, and all the greenery you could ask for, it's the kinda place to settle in for an all-day affair. The guys over at Lobo Plantation are responsible for the drinks, so you know they're gonna be good and tick all the boxes from serious to silly. Not leaving anything out, they also have totally moreish food, live music and DJs – plus they're open till 2am!
235 Victoria St, Darlinghurst NSW 2010, Australia
EUROPE
Kid sister to the awesome multi-award winning Night Jar, this place was always going to be insanely good. It's not the easiest to find, deep underneath the meat market, but it's totally worth the effort. Dripping with old school colonial charm, a killer cocktail menu spanning from 'The Orient' to 'New World' and 'Sharers' and even live jazz: these guys have another home run.
Smithfield Markets, E Poultry Ave, London EC1A 9LH
From the same gang as Stockholm favorite Tjoget, comes another all encompassing great neighborhood restaurant. With a very international vibe, this is a quality affair with super friendly knowledgeable staff who like to have a good time and serve out some banging drinks. Into rum? Well be sure to bee-line here as they have a massive thing for it.
Timmermansgatan 24, 118 55 Stockholm, Sweden
With Marian from The Nightjar and Rusty from The Connaught in a tiny Art Deco bar with a 2am license, you already have the recipe for the best new bar in East London. They've got a serious thing for pickles and mega talent at making drinks so get ready to stay all night long.
44 Old St, London EC1V 9AQ, UK
BITTER MENDEZ – VIENNA
These guys are bringing together two of life's best: coffee and booze. With a cafe in front and a bar in the back, this is the second venture from Zoltan Nagy who has the ever awesome Boutiq'Bar in Budapest. Expect epic drinks with solid service and a banging time every night. They've gone slightly Mexican this time around so you'll be drinking tequila in style.
Karsplatz 2, Vienna 1010, Austria
The latest addition to Saint-Germain, this place is like a trip to the tropics but without trying too hard. Palm leaf wall paper, loads of plants and lots of gin with some seriously gorgeous glassware for their expertly-mixed drinks loaded with spices and block ice. With three floors, it's big enough for your whole crew, but still keeps things intimate and classy.
13 rue Princesse, 75006 Paris, France
THE AMERICAS
Walking the line between seriously sexy and mid-century mod, this long-awaited cocktail den from Ben Schiller quietly opened its doors at the close of 2015 in Lincoln Square. The back bar is enough to make any booze geek drool and the menu's filled with tongue in cheek, whimsical drinks like the "Silly Rabbit" and the "Spaceman Spiff."
2200 W. Lawrence St., Lincoln Square, Chicago, Il, United States
THE OVERLOOK LODGE – CINCINNATI
Ever watched Stephen King's The Shining and wished that mysterious hotel actually existed? Well it kinda does now thanks to long time bartender Jacob Trevino. Expect simple, easy craft cocktails, exotic jerkies and decoration that would make Stanley Kubrick proud.
6083 Montgomery Rd, Cincinnati, OH 45213, United States
MR TIPPLES RECORDING STUDIO – SAN FRANCISCO
Let's get one thing straight: you're here to drink, not to sing. Someone else has the music bit very much covered with live jazz acts every night, which will keep ya enthralled 'til close. The solid cocktail list and food menu come to you from Jay Bordeleau from Maven and Joey Elenenterio of Wayfare Tavern; you know you're in good hands.
39 Fell St, San Francisco, CA 94102, United States
This place is seriously sexy without trying too hard – lots of gold details, intimate lighting and a long dark bar – but what would you expect from the same team as Raines Law Room and Dear Irving? They've ramped up the food aspect a touch, but kept their drinks as ace as ever. Plus, they've kept that cool button system where you can call the waiters over when you want them without ever having to get up.
134 W. Broadway, New York, NY 10013, United States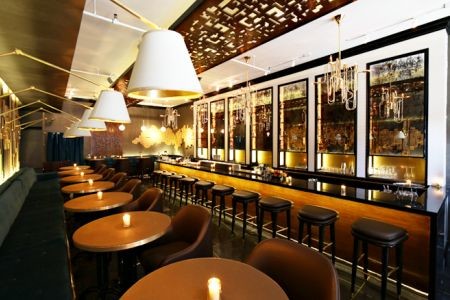 After getting us properly Tiki'ed in Vancouver, we're pretty excited to see this sister joint come to Toronto to bring you a little bit of tropics and a whole lot of rum. Pufferfish lamps. carved totems, island-centric garnishes and actual fire mean there's plenty to gawk at and help you pretend the outside world doesn't exist.
1378 Queen Street W., Toronto, ON M6K 1L7, Canada
AFRICA
OUTRAGE OF MODESTY – CAPE TOWN
The House of Machines has long been a BarChick favorite, so the bar was set pretty high with their latest joint that's located right next door. Luke Whearty, who most recently brought us Operation Dagger in Singapore, has really made a name for himself with crazy science-esque drinks. This place is sure to push boundaries.
88 Shortmarket Street, Cape Town
THANKS TO :http://www.barchick.com/the-best-new-bars-around-the-world/