If it comes in on budget, Pernod Ricard's new malt whisky distillery in Chinawill cost US$150 million, or roughly £120m – almost as much as Macallan's much-vaunted new home on Speyside. The owner of Ballantine's and The Glenlivet is not so much dipping its toe in the water of Chinese whisky, more plunging into the deep end head-first from the 10-metre diving board.
That first word – if – is a big one. After all, Macallan's theme park-meets-production facility was originally meant to cost £100m, but delays sent that figure spiralling to £140m. Then again, what's the odd £40m between friends?
Even for those well-versed in their construction and commissioning, new distilleries are funny things; independent life forms with the unnerving ability to stretch timelines and strain budgets, and to create difficulties unforeseen in the most pragmatically Eeyore-ish of business plans.
That's as true of boutique start-ups as it is of ventures with the heft of Pernod's Emeishan – something I was reminded of last week, as our minibus bumped along the single-track road to the Drimnin Estate on Scotland's remote Morvern peninsula, home to Ncn'ean distillery. Somewhere to the left of us sat Mull and Tobermory, although we had to take that on trust thanks to the weather, which was distinctly dreich.
'I could write a book about what not to do when you're opening a distillery,' said Ncn'ean CEO and founder Annabel Thomas, echoing the experience of many others before her. 'It's not the really big stuff that makes you lose sleep at night. It's the little things that you never really thought about.'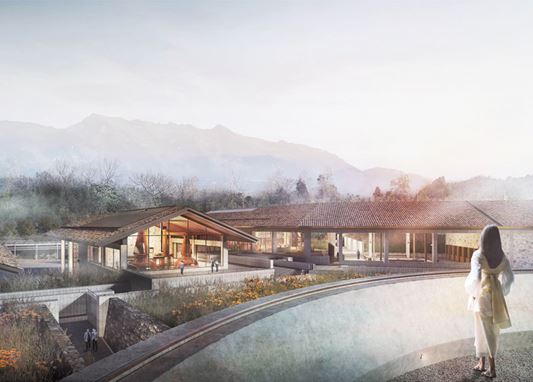 Taking the plunge: Pernod's new malt whisky distillery in China will cost about £120m

It can be a long list. Even for a project with a spend roughly one-twenty-fourth the size of Emeishan, there's raising the cash in the first place. Then there's the question of what you can get up and down a long single-track road: so Ncn'ean's set-up revolves around the reality of its barley intake arriving in one-tonne bags.
You want to be as sustainable as possible? At Ncn'ean, the options for steam creation were oil, or a biomass boiler fuelled by woodchips. With 2,000 acres of commercial forestry on the distillery's doorstep, that decision was relatively simple – but, at £500,000, the boiler cost half as much as all the kit in the distillery. And, at times, it's been a temperamental beast.
But not all the surprises are unpleasant ones. Determined to use only organic barley, Thomas was told to expect 'horror stories' in terms of grain size and nitrogen levels; horror stories that, so far at least, have failed to materialise.
Then there's the serendipitous spike in fruity esters that comes at the end of the summer, when Ncn'ean switches from its 'old' spirit style (about one-tenth of production, distiller's yeast, lower spirit cut) to 'new' (wine and distiller's yeasts, higher cut), accentuating its signature high-toned, early-maturing spirit style.
Ncn'ean's first whisky is due for release in 2020. In the meantime, the distillery has been selling its Botanical Spirit – and the story behind it encapsulates the vagaries of starting up a new distillery.
The original Ncn'ean business plan featured a gin still. Then Thomas abandoned the idea, reasoning that the company was 'a bit late' into an already overcrowded market.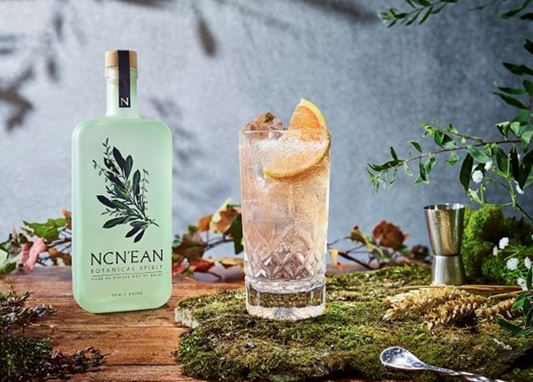 Life of its own: Botanical Spirit wasn't an original part of Ncn'ean's business plan

Time passed. People tried the Ncn'ean new make, loved it and told Thomas to bottle it, but she reckoned that new make occupies the geekiest niche of the whisky market and would only appeal to an extremely limited audience; instead, following much experimentation and foraging of mainly local ingredients such as bog myrtle, Ncn'ean Botanical Spirit was born. Not whisky, not gin, but something in between – an unconscious modern recreation of usquebaugh.
Now Ncn'ean is preparing the second batch of Botanical Spirit, supplementing this with a quirky and very limited run of three cask-aged variants – Bounty bar-accented ex-Bourbon; savoury/celery ex-Spanish vermut (vermouth); and caraway/herbal ex-Mondino (organic German amaro). Something that wasn't even mentioned in the original business plan has taken on a life of its own.
You might think that there are few parallels between a small, independent distillery starting up in a remote corner of the Scottish Highlands, and a hugely ambitious, money-no-object venture on the other side of the world. But you can bet that Emeishan will have its surprises and setbacks, leading its creators down twisting paths that, at the moment, don't even feature on their maps.
Ncn'ean was originally going to be called Drimnin but, to make it distinct from the estate owned by Thomas's parents, it took an abbreviated form of the name of the witch-queen Neachneohain. Now Thomas has decided to shift the apostrophe one space – Nc'nean – to make it easier to pronounce.
If whisky-making is an iterative process, the same can be said for the creation and operation of new distilleries and their products. Whether you're working out of a converted farmhouse in the middle of nowhere, or in a temple to the lure of the emerging wealth of the Chinese consumer, it's a fascinatingly unpredictable ride.
thanks tohttps://scotchwhisky.com/magazine/from-the-editors/27244/the-unpredictable-world-of-new-distilleries/?fbclid=IwAR39ljPmbLAzW1mHNRZI0do-SwGXJs3WdBDvGGFhX1wd4XvW29mfcNXur5Y